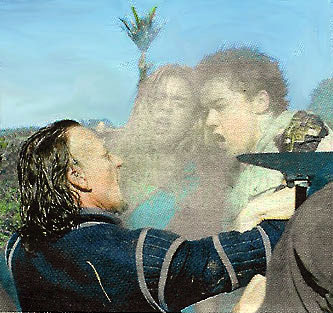 A behind-the-scenes photo of Michael Hurst
as Maska filming Maddigan's Quest

From the Weekend Herald "Time Out" section, 30 July 2005:
ON LOCATION
Fantastic time way out West
Rebecca Barry goes on a quest to see what all the excitement is about in a TV fantasy world
You know it's a strange day when a guy with a cone head strolls past eating a sandwich. But on the set of Maddigan's Quest, nothing is normal.
Preparations are under way to dunk a witch into a makeshift well, children are exploring fake, gloomy caves, and people oblivious to the weirdness of it all are hard at work on costumes, props and ramshackle vehicles.
A truck that looks as though it drove in from The Matrix is decked out with painted road cones, wooden doors--even a trusty kitchen colander.
Maddigan's Quest isn't just West Auckland's best kept secret till now, says producer Simon Bennett; it's the largest television production in New Zealand since American shows Xena and Hercules.
"The stunts, the size of the cast, the extraordinary requirements for makeup and wardrobe--it's a big deal," he says. Maddigan's Quest is now in post-production after a four-month shoot.
Produced by South Pacific Pictures and greenlit by the BBC, it's a tale of magic, adventure and time-travel set in a post-apocalyptic world.
At the centre is 14-year old Garland, a tightrope-walker who joins a traveling circus troupe known as Fantasia. The troupe are on a secret mission to bring back the solar cells that power their home city of Solis.
Margaret Mahy was commissioned to write the series, which inspired her latest book, Maddigan's Fantasia. Key writers Rachel Lang and Gavin Strawhan (Mercy Peak and Being Eve), developed the scripts.
The cast is a who's who of New Zealand actors that includes Danielle Cormack, Tim Balme, Tandi Wright, Fleur Saville, Geraldine Brophy, and Shane Cortese, and the crew includes renowned set and costume designer Tracey Collins and composer Victoria Kelly. Oscar winner James Acheson (The Last Emperor, Sheltering Sky, and Restoration) is the concept designer.
The idea for the show was pitched ten years ago and shelved, then along came Harry Potter and The Lord of the Rings.
"It's a combination of New Zealand, fantasy, and Margaret Mahy's wonderful international reputation," says Bennett.
In each episode, Maddigan and her friends must make their way through an amazing fantasy world, along the way burrowing into the sides of mountains and beneath sand, feats made capable by computer-generated imagery. Powerlines, houses, or planes that made it into shot are simply painted out in post-production.
The more attractive locales include the Waitakere ranges, the tunnels in Devonport's North Head and Fort Tamaki, Wheeler's Farm near Bethells Beach (which was also used in Xena), and Atwood's farm near Muriwai.
The less pleasant include rubbish dumps, the Wainui quarry and an abandoned meatworks in Southdown which was also used for What Becomes of the Broken Hearted.
To shoot a night-time lake scene, the producers took over the Kelston Girls' High School swimming pool, blacked it out, put trees in it and let off smoke. Another time they used the futuristic Waitakere stadium.
The producers considered using Wellington's Weta Studio, famous for its work creating the props and creatures for The Lord of the Rings, but then decided to put together their own visual effects team. "We didn't really have a huge creature component," says co-producer Zane Holmes. "There aren't a lot of monsters or creatures which are really Weta Workshop's forte . . . and Weta are based in Wellington and busy with King Kong."
Instead they called on skilled people that included top storyboard artist Peter McCully, who made blueprints of Maddigan's fantastic worlds.
Maddigan's Quest is shot on high-definition video. "It's the first really practical system that allows you to shoot in slow motion and at high speed, like film cameras, where video is traditionally much slower," Homes says. "It's cheaper than film and richer in colour and contrast than video."
The thirteen half-hour episodes are expected to screen on TV3 early next year. Maddigan's Quest has also been bought by the BBC in Britain and the Nine Network in Australia.
---